Well, it is a rainy, wet Fourth of July.  Sorry for all the people planning cookouts and picnics.  Just a great day to curl up with the computer, IPAD, Kindle or better yet, a good book.  I have things to do but don't feel like going out in the car. Later today we are going to an indoor birthday party for two very old friends of ours.  Stan and Marion are an exceptional couple. They have four children and moved to where ever GE sent them after starting out their life together in PA.  They ended up in Schenectady and finished raising their children there.  Today they are celebrating the fact that this year they will both turn 90 years old.  That is pretty darn special.  They are both still up and around and mentally doing just fine.
I recently became aware of how many folks in their 90's that I know who are out and about, still driving and volunteering at church or the senior center.  I guess that is the way of the future for many of us.  The key though is to have your mental faculties. Without those life is pretty empty and confusing, Scary I would imagine.  Not knowing if you just are on your way to lunch or just finished eating it.  I met a few women like that when I went to visit my cousin Margaret the other day.
OH well on to other thoughts for the day.  It appears my darling granddaughters are in sunshine and ready for a parade.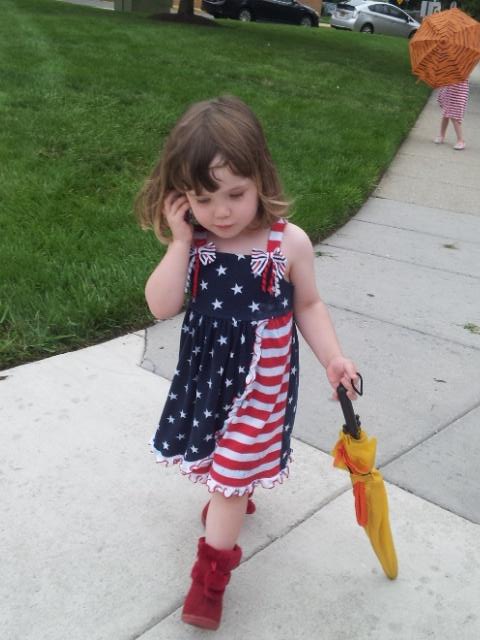 The above is the super model celebrating the Fourth of July.  This little kid is so funny her name is Little Bear.
I am going to jump forward to the letter from Sheila for today..
June 12 or 13, 1944
Dear All:
This is my third letter but the other two are ordinary mail so I hope you have got them. I'm up in the music room, sitting at the cutest little desk writing.
I have not been sea-sick on the whole. The crowd of us were really good. The first day about 10 were in bed up the 2nd day. They all made the deck and since then there hasn't been more than one in bed any day.
They formed a committee of the officers and it all works out well. Thurs night we played Bingo all night but I never won once. Friday night we played bridge and last night we had a dance. It is really a lot of fun and all the boys are really good heads
The only thing we never seem to get is sleep but we manage – as we have to be up for breakfast, it is really a scream, because you never get to bed early and yet you are always out by 7:45.
I wrote to Mother Donovan and Sisters on blue form letter today also. As I didn't see her to say good-bye and figured it was a good gesture.
I have written Jack 2 letters. I'm sending him our address as his furlough is coming up and I'm asking him to drop off and see you all as I want to you meet him – so he may see you sometime in the next 2 or 3 months – because you know army furloughs never come through pronto. I have not written my other thank you notes yet, but shall when I have a permanent address, as I will want answers to some of them – Shall add more to this later.
Wednesay June 14
2 days ago was Bills birthday, I didn't send him a card, sorry Bill, but anyway Happy Birthday and hope you had a grand day. I enjoyed Eileen's letter at Debert very very much and think your apt is just super from all the details.
We are still enjoying the trip a lot and the food still continues to be gorgeous.
Well, this is all the paper for now. Shall continue writing and get them mailed sometime.
Love to you all, Sheila