Such a beautiful day.  I had to get up and drive up to Saratoga for a meeting and it was so warm in the car I turned off the heater and opened one of the windows.  Just gorgeous out.  The meeting was great and got to see a lot of folks I enjoy working with.  We planned a press conference for May for National Prevention Month.  That was fun. I get enthused when I can actual do something related to prevention.  I drove on home and after having a bit of lunch I went out clearing away snow and ice from around my compost bins and then cracked away at the ice around the back porch. That was hard work. The ice had come off the roof and then turned to a solid block which was dangerous as one comes out the door. So it is mostly gone now.
Then I went walking for about 45 minutes.  One of the neighborhood kids was locked out of her house and was watching for her brother to come on the high school bus. She walked with me around the block which was sweet.  I checked the time for her.  She knew not to come into my house but to wait outside.  Well trained I guess.  Finally her brother came which made her very happy.  And I had a chat with our next door neighbor which was nice.
After that I walked a while longer and then reluctantly came back into the house. I think I can do the long walk once the side walks melt their ice and snow.  My plan is to walk up to the Stewarts Shop and eventually when it is finished the Starbucks or the Dunkin Donuts.  If I can start making that walk three times a week and then just walk the circle the rest of the time I think I should get back in shape.  I have terribly missed not walking every day.  Spring is surely coming so I know I will get out more.
Well, time for letters.  I find it so interesting how Pat was able to compartmentalize her life.  I find reading the letters you would never know there was a war going on.  Truly a gift she had.  Wonder what you think as you read them??
12 June 44'
Dear Mother and Dad:
Well we are living in tents now – we moved in on a rainy stormy day – and that really was grim. Eight sisters in a tent. We put up our beds and had our sleeping bags on them. The   beds are collapsible camp beds and our bedrolls have complete canvas covers. The first nite we were cold and wet but by the end of the next day the rain had stopped and I had rearranged my bed so that now I am very comfortable. – I can get acclimatized very easily it seems to me lately.
We all eat in a huge tent which is our mess. That at best is better than I had hoped for. I thought we would eat outside. The weather continues to be dreadful.   The wind is so strong and it rains very little while. We are on the side of a hill. All the tents are together in one spot. the men and officers and ourselves.
Sat nite some friends of ours came up from F……… so we all went out, Lib, Eileen, and myself with them. Doug Pearl? was one, he was in Commerce at Queens around Marye's time and he had a brother in Meds 40'. We had dinner and danced in R….. and it was good fun.
(…… are the way she wrote since they were not allowed to say where they were- mb 2012)
Whenever we get into any near-by towns the children come up to us and ask: "Got any gum, chum" I could die at them we always give them some if we have it, but it gets a bit monotonous.
Had a letter from Ferg the other day which was lovely but he didn't write much and didn't even sign his name. After this I want him to fill up all the space and tell me all the news.
Sunday our padre got us transportation into R…. so we could go to Mass in a church for a change and it certainly was a nice change. Fr O'Leary said High Mass and it was a beautiful church.  It's been a long time since he said it in anything but old huts.
Hope everyone is well.. Is Dad fine these days? How is Bill liking his new job at Nylon? Give my love to Madeline and tell her I will write if ever I have any news
How is Jean and did Misty enjoy his trip?
I'll write later in the week
Lots of love, Pat.
16 June 44'
No 8 Cdn Gen Hosp
Dear Mother and Dad:
Had a lovely letter from Ferg.   Written on "D" day.   By now surely you have had my mail.  They were only holding it until after the big day and there you were worrying when I warned you not to .  I am fine – just waiting now- for how long we don't know yet.
We are still in the tents and it rains every few hours and the wind hasn't died down for a week.   The evenings get lovely but by morning there is fury again.   It's really quite a life.   Had mothers letter consoling me about the "case of the straw mattresses" ha-ha, but you would think in 36 or more years that times would change but not over here.   However we are on camp-beds now and they are collapsing every nite they are closer to the ground.   Mine is alright because I am so light but for the M.O.'s it is very sad. Poor things.
Met Col Ike Sutton the other nite.  He asked about Dad.   There are quite a few Canadians around here now so we go out every nite – at least Lib and I do.   We walk miles.  The bus service is very bad. one bus about every three hours and at nite the last one leaves the nearest town (4 miles) at 9:15 so if you don't get it you've had it.   Usually though the lads get jeeps or vehicles of some description.   Anyway we have quite a bit of fun.
Eileen left today. Her permission came through so she has returned to another hospital. Married sisters can't go overseas you know.
Listen my true loves, I sent you a couple "snaps" had to send them ordinary mail.   They are not very good but at least you will see me in my "glamour rages."   I was in my old baggy trousers too.   Oh well – anyway be sure and tell me if you get them so I will know.   Tell me if you get the others also – the ones taken back in our other spot and the post-cards. My, I hope they get there.
Have to run to catch a bus so will mail this.
Love and thank Ferg for his letter.
Patt
P.S. Heard from Dick telling me how interesting and wonderful the whole big show was. He was fascinated and awed but weren't we all – P.
#35
20 June 44'
Hello dears:
Lib and I are sitting out in the sun near a bush of yellow roses.  I am orderly Joe today so we can't go anywhere.   But it is so wonderful out that I wouldn't want to anyway.   As soon as we moved back into the house the weather became lovely and very calm so once again we are comfortable.
For ten days I didn't have a bath, now knowing me you can imagine what that was like but I survived it all.  I had a "permanent" the other day and I think it is the nicest I have ever had believe it or not. the "operator" who gave it to me asked me to come to her house to have a bath etc. but I said I thought I could hold out.   All the people are very nice and friendly and eager to talk to us and I have met some funny characters.
We had a grand week-end. Sat nite we had a dance in the village hall.  Some Can lads from a nearby air field came over with their orchestra and it was wonderful to dance to our kind of music for a change.  It was a grand party.   Met scads of new people.   After the dance we came back to our place to eat – then there was the usual sing-song etc.
Yesterday Lib and I and two of the Red Cross Officers – (girls) went on a picnic with some grand lads from a nearly camp.   We had a perfect day. we explored an old castle (haunted of course) made a fire, boiled some eggs we had managed to buy (we never have eggs you know) made some toast and cocoa – it as a beautiful nite and the hills and moors never looked livelier.   It stays bright until 11:30 pm the sun goes down about 10 p.m. It's hard to believe when we were in the tents no lights were allowed and even though the tents were dark you could go outside to walk and do your hair up etc. marvelous.
We got some new sisters the other day. Valerie Hora was one just returned from Italy. She seemed very happy to see me. She asked for Marye . She is lucky to be back. and going with us.
I received the soap. Thank you very much. I hope by now you have all my letters. This has been a really nice interlude in many ways and now that we are meeting so many people we will hate to leave.
Had a letter from Madame Mercier the other day.
Hope I hear from you all soon.
love Pat
Many photographers took pictures of Allied forces landing on the beaches of Normandy during D-Day.  This image was taken by Charles Turner.  It is online via the BBC.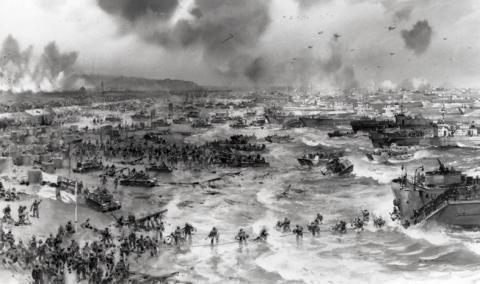 . . . these men came here – British and our allies, and Americans – to storm these beaches for one purpose only, not to gain anything for ourselves, not to fulfill any ambitions that America had for conquest, but just to preserve freedom. . . . Many thousands of men have died for such ideals as these. . . but these young boys. . . were cut off in their prime. . . I devoutly hope that we will never again have to see such scenes as these. I think and hope, and pray, that humanity will have learned. . . we must find some way . . . to gain an eternal peace for this world. ("Eisenhower: A Soldier's Life," by Carlo D'Este, p. 705.)